Your Financial Guardian Angel
---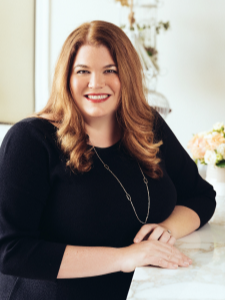 Sarah Tolson Kim, Certified Financial Planner™ recipient, is passionate about helping women create custom wealth-building plans tailored to their goals and lifestyles. As a second generation financial planner, Sarah carries on her family's mission of providing trusted personal financial advice for her clients.
Sarah has a Bachelor of Science in Business from the Kelley School of Business at Indiana University. She joined her family's firm in 2006 after several years in a successful retail merchandising career with Target Corporation and Abercrombie & Fitch.
Having served on the Board of Directors the Junior League of the Oakland-East Bay, Financial Women's Association of San Francisco, and the East Bay Women's Network, Sarah participates in philanthropic work regularly. She is also actively involved in the the highly regarded peer advisory group the Women Presidents' Organization and ProVisors.
In addition to financial consulting, Sarah is an entertaining and captivating public speaker; and she is currently writing a book about financial planning for women with young families. She was a featured presenter at the 2012 Women In Leadership Conference at the Haas School of Business at the University of California, Berkeley, the 2013 YMCA Young Women & Money Conference, and the 2015 East Bay Women's Conference. In her spare time, Sarah enjoys playing golf, cooking, and traveling with her husband and young daughter.
---