Your Financial Guardian Angel
---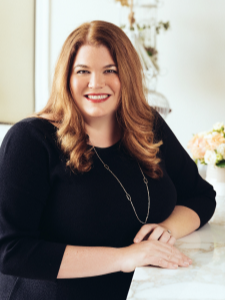 Sarah Tolson Kim, CERTIFIED FINANCIAL PLANNER™ Practitioner, is passionate about helping women create custom wealth-building plans tailored to their goals and lifestyles. As a second generation financial planner, Sarah carries on her family's mission of providing trusted personal financial advice for her clients.
Sarah has a Bachelor of Science in Business from the Kelley School of Business at Indiana University. She joined her family's firm in 2006 after several years in a successful retail merchandising career with Target Corporation and Abercrombie & Fitch.
Having served on the Board of Directors for the Junior League of the Oakland-East Bay and the Financial Women of San Francisco, Sarah participates in philanthropic work regularly. She is also actively involved in the the highly regarded peer advisory group the WPO: Women Presidents Organization and ProVisors.
In addition to financial consulting, Sarah is an entertaining and captivating public speaker; and she is currently writing a book about financial planning for women with young families. She was a featured presenter at the 2012 Women In Leadership Conference at the Haas School of Business at the University of California, Berkeley, the 2013 YMCA Young Women & Money Conference, and the 2015 East Bay Women's Conference. In her spare time, Sarah enjoys playing golf, cooking, and traveling with her husband and young daughter.
---